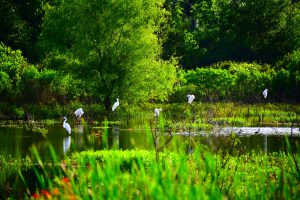 We visit two sites within the City of Pearland to observe how one city's mission, "To protect, manage, and enhance the City's natural resources, provide citizens with outdoor recreation opportunities, and to further the public's understanding and appreciation of its natural resources through education and hands-on experiences", has been taken to the next level. From 50 acres of constructed storm water wetlands to 140 acres of parkland managed entirely for nature and wildlife, the concept of bringing nature to everyone comes home.
We begin our trip at the Shadow Creek Ranch Nature Trail, one of the area's best kept birding secrets. The site is managed as a natural area park and features a paved walking path through emergent wetlands to get access to some of the more secretive water birds such as American Bittern and Sora. Abundant Black Willow grow along the trail which can be a productive site for finding migrating songbirds. An observation deck will help us get an elevated view over much of the site. Wooded areas along the Clear Creek boundary can also provide a different mix of birds. If weather allows, we will walk a portion of Clear Creek looking for these birds.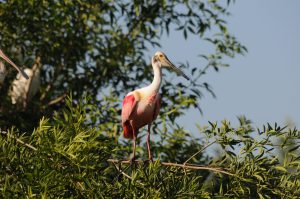 Our second stop is the Delores Fenwick Nature Center located at the City of Pearland's John Hargrove Environmental Complex (JHEC). The site is a little more than 70 acres that features two large retention ponds. Originally developed with the City's wastewater treatment facility and as a stormwater retention site, JHEC has since evolved into an important wildlife area within the City of Pearland. Abundant water birds can be found year around with the spring season highlighted by the nesting colony of Herons, Egrets, Roseate Spoonbill, Cormorants, and Ibis. We will have excellent viewing opportunities of the rookery from the walking trails.
Bring: water, snacks, sunscreen, and bug spray. Hiking or walking shoes recommended for the walk along Clear Creek.
This is a meet-at-site trip. Driving directions will be emailed prior to the trip.