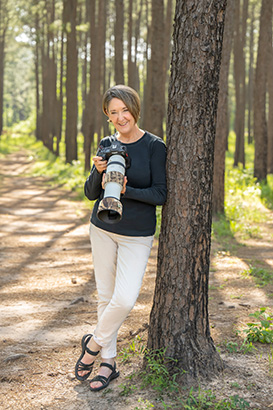 Kathy is the owner of KAC Productions. She has been a full-time nature photographer since 1995. Her photos have appeared in many publications, including Birder's World, Ranger Rick, The New York Times and National Geographic books. Kathy speaks frequently at association meetings and nature festivals. In addition, she is past-president of the North American Nature Photography Association.
Kathy has extensive experience in teaching photography. It's her love of teaching and easy-to-understand style that keeps her students signing up for new classes and field trips. Kathy teaches photography and digital imaging classes online and leads photo tours in the United States and abroad for Strabo Tours.
Visit www.kathyadamsclark.com to see more about Kathy's tours, classes and her nature photography images. You can also follow her at kathyadamsclark.blogspot.com.
What's in the bag?
Kathy uses Canon R5 and R3 camera bodies.  Her long lens is a 100-500mm RF with a 1.4x extender.  Her wide angle lenses are the 24-105mm RF and 15-35mm RF.  Her tripod of choice is the MeFoto Globetrotter Carbon Fiber Classic. She uses a Think Tank Roller Derby brand for her bag.