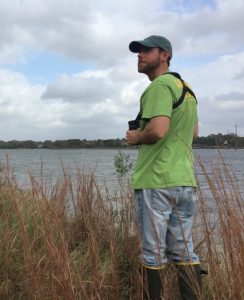 Cullen Ondracek graduated from Texas A&M University-Kingsville in 2009 with a B.S. in Range and Wildlife Management. Cullen's work history includes positions at the Texas Coastal Watershed Program, Anahuac National Wildlife Refuge, Armand Bayou Nature Center, and Sheldon Lake State Park where he focused on natural resource management including prescribed burning, wetland/prairie management and restoration, and conducted numerous biological surveys. In his current position as the Natural Resources Manager for the City of Pearland, Cullen works to conserve, restore, and enhance the city's natural resources for the benefit of native plant and animal communities.
His birding career was sparked in 2007 while enrolled in Ornithology at Texas A&M University-Kingsville. From there he went on to work on various bird related projects such as Least Tern nest surveys, Black-capped Vireo habitat and nest monitoring study, Mottled Duck banding, conducting colonial waterbird surveys and compiling data, various point-count bird surveys, and participating in multiple Christmas Bird Counts.
In his free time, Cullen enjoys birding, hunting, wildlife photography, and spending time with his wife and two kids.