Galveston Birding and Nature Photo Festival
SHOP FEATHERFEST VENDOR INFORMATION!
April 21 – 23, 2022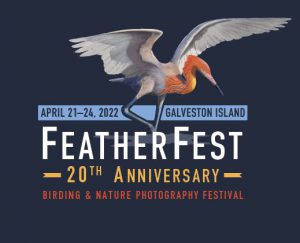 Be a vendor at SHOP FEATHERFEST! FeatherFest 2022 is ON….with over 100 field trips, workshops, raptor shows, vendors, and evening social events. Online registration opened before the holidays and we are so excited with the number of folks already making plans to come experience spring migration in Galveston!
We will be celebrating our 20th anniversary in style with a move to a new venue! FeatherFest will be held in the Frances Anne Moody Ballroom of the beautiful Moody Gardens Hotel from April 21 – 24. Our SHOP FEATHERFEST vendor area will be open from Thursday afternoon through Saturday at 5:00 p.m.
We'll have ample room for all of our vendors to be together in the ballroom along with our children's art & writing display and more. The ballroom is perfectly situated adjacent to our workshop rooms as well as our registration station and the buses will be picking up and dropping off registrants right outside the ballroom doors. Everything will be in one place including lodging, food, attractions and all of the other wonderful amenities the Moody Gardens property offers.
And for the first time, we will have a hospitality room for our FeatherFest vendors sponsored by our friends at Land Sea & Sky! Vendors will have a place to relax and visit when not staffing their booths.
Space will be sold on a first come, first served basis.
Click on the buttons below for more information and the vendor application. 
NOTE: AT THIS TIME, THERE ARE NO BOOTHS AVAILABLE
SHOP FEATHERFEST HOURS
Thursday/April 21, 1:00 p.m. – 6:00 p.m.
Friday/April 22, 10:00 a.m. – 6:00 p.m.
Saturday/April 23, 10:00 a.m. – 5:00 p.m.

2022 SHOP FEATHERFEST VENDORS!
Come out to FeatherFest headquarters at the Moody Gardens Hotel and drop in to our Shop FeatherFest vendor area for some great shopping opportunities. We will have everything from arts and crafts to apparel and accessories, bird books, photography, binoculars, spotting scopes and more. There will be an on-site vendor buying used cameras and photo gear, and…a native plant giveaway!
ABL GIRLS CREATIVES
AMERICAN BIRD CONSERVANCY
ARTIST BOAT
AUDUBON TEXAS
BAY BIRDS
BIRD MESSENGERS
BIRDERCHICKS
BIRDING FOR FUN
CLEAR LAKE CHAPTER, NATIVE PLANT SOCIETY OF TEXAS
FRIENDS OF ANAHUAC REFUGE
GALVESTON BAY FOUNDATION
GALVESTON ISLAND STATE PARK
GEMS OF THE OCEAN
LAND SEA & SKY BINOCULARS
CITY OF LEAGUE CITY CONVENTION & VISITORS BUREAU
ANN MONCUS, ARTIST
NATURE'S WONDERS
OPTICRON
RIO GRANDE VALLEY BIRDING FESTIVAL
THE GALVESTON ORNITHOLOGICAL SOCIETY
USED PHOTO PRO
VISIT BEAUMONT
VISIT PORT ARTHUR
WINWARD MEDIA