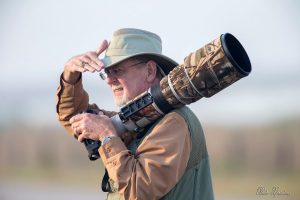 David Paulissen is a long time avian and wildlife photographer. Shooting since childhood has groomed his passion for photography and honed that vision into a love of birds and wildlife. He also creates portrait and fine art photography. David lives in the Galveston Bay area of Texas and frequents the bays, ponds, area refuges and state parks nearby. Perhaps his favorite areas are Galveston Island, High Island, Brazos Bend State Park, and Anahuac and Brazoria National Wildlife Refuges, all of which are within easy travel of his home in Dickinson, TX.  He began photography using film and has been creating digital images since 2003.
David has been juried into many art shows including those at JoMar Visions, Artcrawl Houston and the Art Alliance of Clear Lake. In 2014 one of his images was one of twelve chosen in the Galveston Nature Tourism FeatherFest  juried show. His work also has been feature in Life is Good magazine. His images are hung in homes and offices in the Clear Lake Area of Texas. You may visit his site at dapaulissenphotography.com.
What's in the bag?
David shoots the Canon 1DX, 5D IV and 7D II bodies depending on need.  Lenses include the Canon 500mm f4 mkI, Canon 100-400mm MkII  as well at the Canon 16-35mm and Canon 70-200mm, again as desired. He often uses the Canon 1.4X MkIII converter with the 2X Mk III in reserve.  He uses a Gitzo GT 3541XLS tripod and Wimberly Mk II gimbal head. Flashes include an EX 580 EX and Yongnuo YN600 EX-RT II.