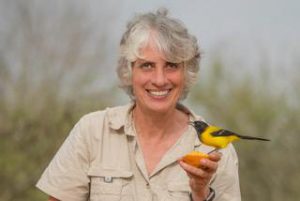 Ruth Hoyt is a full-time professional nature photographer, writer, public speaker, workshop leader, coach, and consultant with 30+ years' experience teaching nature photography. Additional attributes are her certificates for Interpretive Guide and Texas Master Naturalist.
A charter member of the North American Nature Photography Association and a past board member of the Outdoor Writers Association of America, Ruth writes a regular column for  the Journal of Wildlife Photography, "Set Up for Success."
She is best known for her Texas bird photography and professional guiding services on private south Texas ranches, but she also pursues landscape, flora, macro, night, and more in various locations across the United States.
Ruth currently uses Canon R5 and R3 mirrorless cameras, iPhone, and DJI drones for her video and still work, but keeps an open mind for new technology as it enters the photographic scene.
Her work includes large canvas gallery-wrapped prints and mounted prints using archival, museum-quality paper. Her work can be seen in permanent public locations in various states and local hospitals, private offices, and visitors' centers.
For current work, visit her Instagram account at @ruthhoytphoto. Contact her via phone at (956) 330-2900 or email at ruthhoyt@gmail.com.