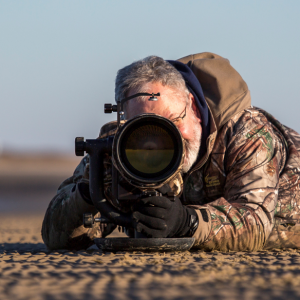 Tim's day job is a Chemical Engineer/Project Manager but his passion outside of work is wildlife photography. Tim has been an active nature photographer since 2005. He specializes in shore bird photography using a ground pod to get eye level with the birds. Tim has also participated in wildlife workshops in Yellowstone National Park and Lake Clark Alaska over the last four years.
Tim has led bird photography workshops at Galveston's FeatherFest since 2011. He won honorable mention in the 2015 Audubon Photo Contest and had four photos make it into the top 100 in 2021. He also won the grand prize for the Galveston FeatherFest photo contests in 2010 and 2008 and the grand prize in the 2011 Migration Celebration photo contest in Brazoria County. Tim has also judged the Migration Celebration photo contest.
Visit www.timtimmis.com to see some of his photos.
He also has a blog at www.timtimmisblog.com
What's in the bag?
Tim uses a Canon 1DX III camera, Canon 500mm F4 IS II lens, 1.4x III teleconverter and Canon 100-400 II lens for wildlife photography.  For ground level shots, he uses a Skimmer ground pod and a Wimberley II gimbal head.  He also uses Gitzo/Induro carbon fiber tripods.