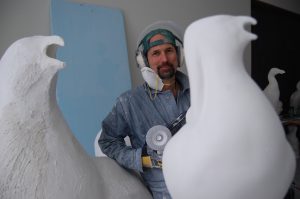 Artist Todd McGrain's career has been driven by his belief that art is a form of public engagement that can transform our beliefs and perceptions. Through sculpture, painting and drawing, photography and film, McGrain has combined the language of the visual arts and storytelling to raise awareness of man's impact on the world and the creatures that share it with us.
Born in Rochester, New York in 1961, McGrain's fondest childhood memories include his time spent camping and hiking in the Adirondack Mountains. This experience in the wilderness formed a lasting love of our natural world. His early career as a sculptor was spent as an apprentice in bronze casting facilities where he had direct hands on experience supporting some of the most significant sculptors of the previous generation, including William Tucker and Anthony Caro. With the support of a Guggenheim fellowship McGrain continued his education through a study of the major collections across Europe with a particular focus of the art of the Italian Renaissance.
In his mature career, McGrain has tirelessly pursued his ambition to combine his strengths as an artist with his commitment to raising environmental concerns. Most recently McGrain has spent extended time in the Central Africa Republic, chronicling the extinction threat facing the Forest Elephants of the Rainforest.