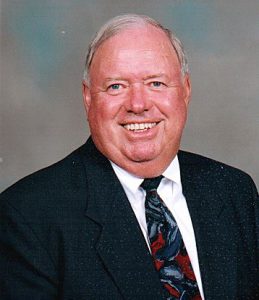 Richard Mayfield is a 1961 graduate of the University of Arkansas where he earned a Bachelor of Science Degree in Chemical Engineering. Upon graduation, Richard spent two years in the U. S. Army as an officer in the Ordnance Corp.
In June of 1963, Richard went to work for Union Carbide at their Seadrift Texas plant. He worked there from 1963 until January of 1971 and then moved to the Union Carbide Texas City plant as their Regional Chemicals Purchasing manager. In September of 1973, Richard took over as Department Head of the Texas City Plant Marine Terminal. He moved to Union Carbide's Houston Office in March of 1976 as Senior Purchasing Agent and shortly after was made Manager of the Gaseous Fuels & Feedstock Supply Group. In October of 1979, Richard joined Koch Chemical as Manager of the Chemicals trading group. With the 1981 acquisition by Koch of the Sun Corpus Christi facility, Richard became Vice President of Gulf Coast Chemicals Sales & Purchasing. Richard remained in this position until his retirement in February of 1997. After retirement, he served as a consultant until 2002.
Since full retirement, Richard has been active in the Galveston Ornithological Society as Club President & Board Member, and with the Friends of Galveston Island State Park as a Board Member and Birding Committee Chairman. He has also been active in his church serving on The Parish Disaster Planning Committee, the church Pastoral Council, the Building Committee, and has been instituted as an Acolyte. For recreation Richard plays golf, goes birding and travels extensively with his wife. With three children and seven grandchildren who live within 30 miles, a lot of time is spent in family activities.