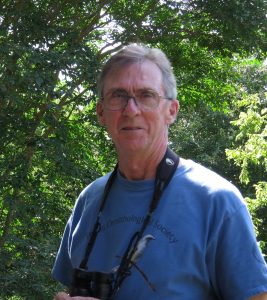 Chuck retired from La Porte ISD where he worked as Director of Internet Applications and Library Services. Prior to that, he was a biology teacher and Planetarium Director.
He graduated from LSU in Forestry and Wildlife Management, and later from Texas A&M in Wildlife and Fisheries Sciences. He studied the effects of intensive hunting pressure on gray and fox squirrel reproduction for his master's thesis at Texas A&M. After leaving Texas A&M he worked for an ecological research firm in Bryan, Texas with projects in Alaska, Colorado, New Mexico, and coastal Texas. His interest in birds developed from duck hunting trips with his dad In Louisiana and after taking an ornithology course at LSU.
Chuck enjoys working with children and currently mentors a class of 3 and 4 year olds in Head Start and serves on the Board of Directors of the La Porte ISD Educational Foundation. He also serves on the board of the Friends of Anahuac Refuge.