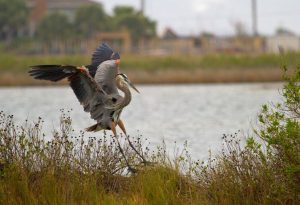 Galveston is a Gulf coastal island renowned for its many habitats. On the Gulf beaches, you'll scan out on the swells and incoming surf for rafts of waterfowl and seabirds. Walking along the beach the edge of the surf is active with the antics of the island's year-round and migrating peeps, Reddish Egret, Great Blue Heron, and shorebirds foraging on "what the tide brung-in." Away from the water among the dunes of San Luis Pass, East Beach and GISP, Savannah Sparrow and Horned Lark flit about. Beyond the dunes are briny ponds holding roosting seabirds, Nelson's and Seaside Sparrows, rails, coots, and water birds. In the bay and tidal marshes migrating and nesting herons, egrets and cormorants in their breeding best, forage. The avian fauna is always in flux with the advance and retreat of the tide moving the food chain in and out. Among the tidally influenced habits and the open coastal prairies and oak mottes migrating songbirds need to refuel and find fresh water.
Explore the entire island with our local leaders. They know the birding spots well, and will consider the weather, tides, and what they have seen just prior to or during the festival, to decide what to view and where to go. In that regard, the tour is not fixed rigidly in advance, but is more a birding adventure. You'll go where the birds are!
Targets: American Avocet, Black-necked Stilt, Roseate Spoonbill, sandpipers, waterfowl, prairie birds, sparrows, raptors, herons, egrets, and dowitchers. If migrant songbirds are on the Island, these leaders will find them!
Bring: water, snacks, sunscreen, bug spray