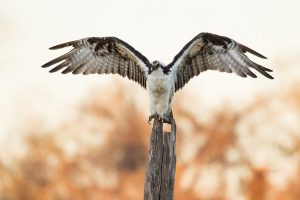 Two of the most iconic birds in North America visit Armand Bayou every winter and spring. The American bald eagle and osprey spend November through April hunting and fishing the productive waters of the bayou. Once threatened by the use of pesticides, the recovery of these species is a great testament to the value of clean water and habitat preservation. This is an incredible viewing opportunity, located in Houston's backyard.
Join us as we take a bayou tour onboard the Bayou Ranger II pontoon boat for some of the best viewing opportunities on the Texas coast. Osprey are fish eating birds which put on a spectacular show as they dive into the water from significant heights. Few of us forget such an aerial display or the chance to see an eagle in the wild.
We will meet at ABNC for this trip. This is a meet-at-site trip. Driving directions will be emailed prior to the trip.
Bring: water, sunscreen, bug spray,