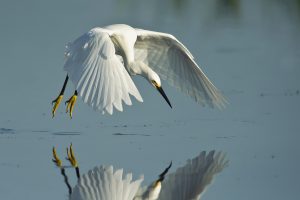 This is a 75-mile bus trip to Anahuac National Wildlife Refuge which is located on the mainland side of East Galveston Bay. With 35,000 acres of brackish and freshwater marsh, flooded moist soil units and the East Galveston Bay shoreline, the refuge offers the full range of coastal and migratory birds. Park roads, trails and boardwalks provide excellent viewing of several varieties of rails, herons, egrets, waterfowl, Seaside Sparrow, late Nelson's Sparrow, Sedge and Marsh Wrens, some raptors, early migrant warblers and alligators.
After Anahuac, time permitting and at the discretion of the trip leaders, there may be brief stops at High Island and/or along the Bolivar Peninsula to check for migrating birds.
Note: The cost of this trip is to cover festival expenses. The Anahuac National Wildlife Refuge does not charge for any activities  on the refuge.
Bring water, snacks, lunch
Bus & Walk
Photo: Angela McCain