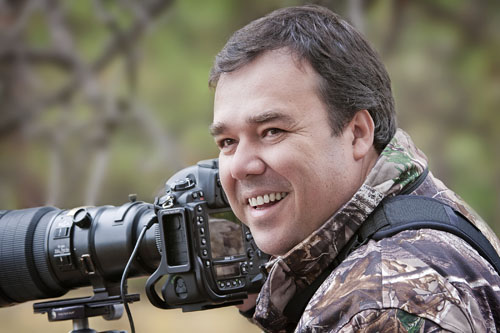 Hector D. Astorga is a full-time wildlife photographer based in South Texas.  He is the ranch manager of the Santa Clara Ranch, a photography destination that hosts wildlife photographers from all over the world.  He also leads and conducts photography tours and workshops at multiple locations in North, Central, and South America, Europe, and Africa.

He has won numerous national and international awards for his work.  In 2019 one of his images won the wildlife division of the prestigious Nature's Best Windland Smith Rice International Awards.  His images have also won the top awards in the NANPA Showcase, National Wildlife Federation Photo Competition, and the Wildlife in Focus and Valley Land Fund wildlife photography contests in Texas.
Hector is one of the "We Will Not Be Tamed" Ambassadors for the Texas Parks and Wildlife Foundation.  The ambassadors are a group of remarkable Texan outdoorsmen and women who stand together and tell stories about Texas, the place that has given them so much.  He uses his work for land and wildlife conservation in his home state.

Visit www.hectorastorga.com to learn more about Hector and view his work.
What's in the bag?
Hector carries: Two Sony A1 camera bodies. His lenses include the Sony 600mm f4, the Sony 400mm f2.8, and the Sony 100-400mm f4.5-5.6 for wildlife. For landscape and photo trap work he uses the Sony 12-24mm f2.8 and the Sony 24-105 f4 lenses. The Sony 95mm f2.8 is his choice for macro photography. He uses Gitzo tripods with the Wimberley gimbal head, the Flex-Shooter Pro ball head, and RRS ball heads.