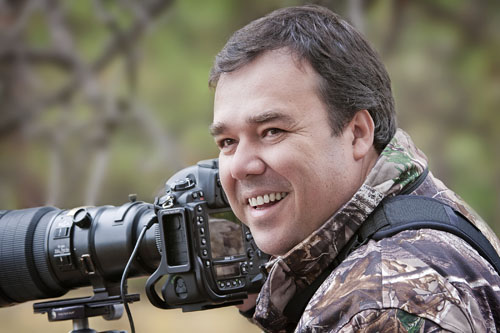 Hector D. Astorga is a professional nature photographer based in South Texas.  His love of nature and the outdoors began as a child in his native country, Honduras. He is a professional guide for visiting photographers at the Santa Clara Ranch and also serves as the ranch manager. He conducts photography workshops there and at other locations in North America, Central America, and Africa.
He is a four-time Grand Prize winner of the Texas big nature photography competitions. In 2013 and 2015, he was the Grand Prize winner of the Wildlife in Focus Nature Photography Contest. In addition, he was the top recipient of the Valley Land Fund Nature Photography Contest in 2010 (Professional and Open Divisions) and in 2008 (Small Tract Division). He won top honors in the 2009 National Wildlife Federation Photography Contest and in the 2012 Rocky Mountain Outdoor Writers and Photographers Photography competition. In 2016, one of his images was selected as a "Best of Show" by the North American Nature Photography Association (NANPA) in their Annual Showcase competition.
His work has been featured in Nature's Best Magazine, Audubon Magazine, National Wildlife Federation, Texas Parks and Wildlife Magazine, National Geographic Guide Books, The Chicago Tribune and other national and regional publications.
Hector is a member of the North American Nature Photography Association (NANPA), Rocky Mountain Outdoor Writers and Photographers (RMOWP), Texas Nature and Environmental Photographers (TexNEP), Texas Wildlife Association (TWA) and of Nikon Professional Services (NPS).
Visit www.hectorastorga.com to learn more about Hector and view his work.
What's in the bag?
Hector carries: Nikon D5, Nikon D500, and Nikon D810 cameras.  His lenses include the Nikon 500mm f4; and the Nikon 70-200 f2.8 for wildlife.  For landscape and photo trap images, he uses the Nikon 24-70 f2.8, Nikon 16-35 f4, and Nikon 16mm f2.8 fish-eye.  The Nikon 200mm Macro is his choice for macro photography.  His top choice for a tripod is the Gitzo tripod with a Wimberley gimbal head or a Really Right Stuff ball head.