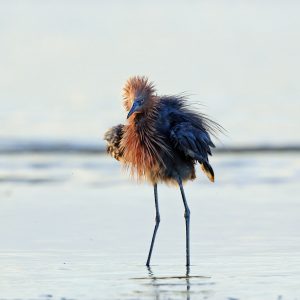 Driving directions to the meeting site will be emailed prior to the festival.
This trip is for those who are new or unfamiliar with coastal birding. Galveston Island has all the habitats associated with a barrier island – beach, uplands, freshwater ponds, brackish lagoons, black mangroves, and wetlands. Join local father and son team, Allen and Michael Hardee, on this "birdy" trip as you learn to identify Black Skimmers, gulls, terns, sandpipers, plovers, herons, egrets, ibis, spoonbills, ducks and much more. These bird species can be confusingly similar and may seem overwhelming to learn at first. Prior to the field trip participants will be able to access a website presentation.  The Hardees, who have been birding this area for years, will introduce some basic field ID approaches and specialty tips for identifying the shorebirds of Galveston Island. We meet at a site on the East End of the Island, then proceed down Boddecker Road through the East End Lagoon Nature Preserve. We will stop at several locations, finishing at the beach which borders the entrance to Galveston Bay.
This trip makes a great combo with the Shorebirds, Gulls & Terns of Galveston Island Workshop earlier on Friday.
Bring: water, snacks, sunscreen, bug spray