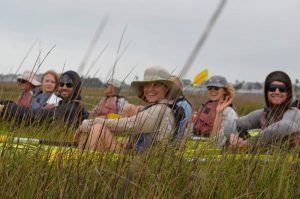 Drive your own car to the Galveston Island State Park for a delightful, natural experience. Enjoy paddling in a provided kayak while slowly exploring the open lagoons and marshes of Galveston Island State Park, one of the area's premier ecological jewels. This 2,000-acre public park offers a multitude of habitats that support a wide variety of birds: waders like herons, egrets, Roseate Spoonbill and shorebirds; waterfowl and overhead raptors like Osprey; White-tailed Kite and Northern Harrier. If you have time after the event, visit the two birding observation towers.
Paddlers are advised to bring a hat, sunscreen, bug spray and a water-proof bag for your gear. Be prepared to get a bit wet/muddy. We suggest wearing closed-toe marsh booties or lace-up shoes that will stay on your feet – NO FLIP FLOPS.
Most of the kayaks are tandem. You will be required to wear a life jacket. (Life jackets are provided.) If you're coming from the East End or downtown, please allow 30 minutes to drive to the park. Driving directions will be emailed to you prior to the festival.
In the event of poor paddling conditions, we will offer instead, a walking tour of the GISP bayside beach area, wetlands and observation tower where we will see a variety of bird species.
There is a minimum age requirement of 16 years for this trip.