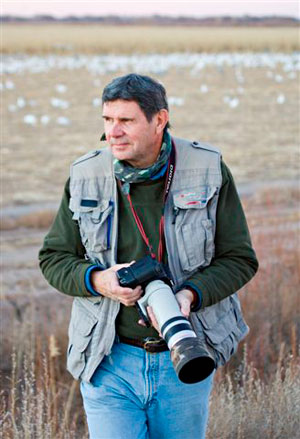 Larry has been a nature photographer for over three decade. He is a member of the North American Nature Photography Association and the Rocky Mountain Outdoor Writers and Photographers Association. He specializes in capturing images of South Texas and Northeast Mexico. A few times a year he ranges into other areas of the United States. His publication credits include National Geographic books, Field & Stream, Natural History, Sports Afield and other magazines. Audubon calendars, Texas Parks & Wildlife Magazine, National Wildlife, and Texas Highways regularly feature his work. In 2000, Larry won The Valley Land Fund Wildlife Photo Contest along with his good friend Greg Lasley.
Larry leads several workshops and instructional tours each year, as well as judging photography contests and advising landowners on how to set up commercial wildlife photography operations. His training as a wildlife biologist and background as a manager in the National Wildlife Refuge System are huge assets in his pursuit of wildlife photography.
Visit www.larryditto.com to read more about Larry and view his gallery.
What's in the bag?
Larry carries a Canon 1D Mark III and Canon 7D cameras. His lenses include the Canon 500mm, the Canon 300mm, and the Canon 100-400 for his wildlife and bird photography. He also uses the 16-35 mm lens for his scenics, the Wimberley gimbal and Arch Swiss Monoball heads, and Gitzo 1348 carbon fiber tripod to stabilize his equipment.