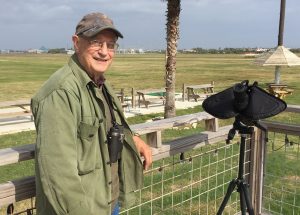 Dick has been an active field ornithologist for over seventy years. He began his birding early in Chesapeake, Virginia. When he was 11 years old, his fifth grade school teacher started a junior Audubon Club in her class. Two years later, Peake persuaded his parents to buy him a pair of WWII army surplus 6×30 binoculars. Imagine his excitement when one of the first birds he found in his neighborhood was a Western Kingbird.
At the University of Virginia, his roommate Renwick Kerr and Dick spent more time birding than studying for classes. The result was a good bird list for that year, and the opportunity for Dick to work his way to the West Coast delivering samples door to door, an excellent way to see birds as well as earn money to replace his lost scholarship money. Back home and attending Old Dominion University for a semester, Dick made his first significant contribution to Virginia ornithology by finding a group of Lincoln's Sparrows wintering in Tidewater Virginia, a find that led to his first article in the Virginia Society of Ornithology's publication The Raven.
Returning to the University of Virginia, Dick took a BA and MA in English. He then taught at Clemson University, the University of Georgia, and Western Carolina University, all the while continuing his birding activities. After taking a Ph.D. in English at the University of Georgia, he became Chair of the Department of English at the University of Virginia's College at Wise, Virginia, a post that he held (with a few years off) for thirty years. During that time he was active in the Virginia Society of Ornithology and served as a member of its governing board, its records committee, and its President.
From 1991-1996 he was compiler of the Wise County, Virginia, Christmas Bird Count. After retirement in 1998, he began spending much of his time in Galveston, Texas. He became co-compiler of the Freeport Christmas Bird Count, a post he has relinquished, and for the last two decades he has been teaching a birding class in UTMB's Lifelong Learning program.
Though not primarily a "lister," he has an ABA list of well over 700 and a world list of 5700 species. He is a life member of the AOU, the Association of Field Ornithologists, the Carolina Bird Club, the Houston Audubon Society, KOS, TOS (both Tennessee and Texas), VSO, and the Wilson Ornithological Society. Now Professor Emeritus of English, Dick gives illustrated bird programs and does occasional volunteer and professional birding tours in Texas and Virginia. Dick has been leading trips for FeatherFest since the beginning.