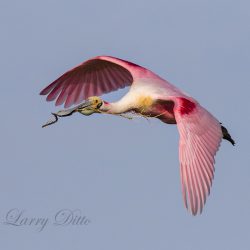 This FeatherFest photography field trip is always one of the first to sell out. Join Larry Ditto for a special pre-festival photo trip to a colonial bird rookery near Aransas National Wildlife Refuge near Rockport/Fulton, Texas.
Larry Ditto worked as an assistant manager at Aransas National Wildlife Refuge many years ago and is a trained wildlife biologist with a good knowledge of colonial nesting birds and ecology. He also has over 40 years of nature photography experience and is excited to be your nature guide and photography instructor while boat captain, Kevin Sims, navigates to colonial nesting bird islands off Aransas National Wildlife Refuge. You will have the opportunity to take photographs on both Tuesday and Wednesday mornings during the peak time of year for colonial nesting bird activity. This trip will be limited to only five participants, so there will be plenty of room for everyone to use their big lenses and tripods.
We will arrive in Rockport/Fulton on Monday night and dine together at a local restaurant. (Your meal is not included in the price of the trip.) Tuesday morning, a 15-minute drive will take us to the boat launch near Goose Island State Park where we will arrive 45 minutes before sunrise. Kevin will take us to the island just before sunrise so that we are shooting in beautiful light as the sun comes up. After photographing until 10 -11 am, we will return to town, have lunch, rest, download photos, and regroup around 4 pm to photograph landscapes around Fulton Harbor and /or photograph songbirds at the Bird Sanctuary in Port Aransas.
The Fulton Harbor area has great late afternoon photo opportunities with many oyster boats returning from fishing, many pleasure boats moored there, and a lighted fishing pier nearby that will allow participants to continue photographing into the early evening. After a good night's rest, we repeat the process the next morning. The tour ends at noon on Wednesday to allow participants plenty of time to drive to Galveston Island for FeatherFest.
Larry Ditto will provide expertise regarding the birds and the refuge, instruction on bird and flight photography, and other photography assistance. Everyone will get outstanding opportunities to capture flight photos and perching shots of Great Blue Heron, Roseate Spoonbill, Great, Reddish and Snowy Egrets, and other colonial nesters, right in front of the boat.  This will be the perfect setting to spend time learning from Larry.
THERE IS NO RESTROOM ON THE BOAT. Please note that there are times we are unable to make bathroom stops due to wind. Be prepared for the possibility that we will be on the water for 5 hours without facilities.
Please Note:  Kevin follows all guidelines in conducting the tours in a way that is very safe for the birds.
Equipment: Recommended lens sizes 300 – 800 mm…400 or 500 mm is ideal. Tripod.
Bring: water, snacks, sunscreen, bug spray
Lodging Assistance:  We recommend you stay in Fulton/Rockport. There are numerous hotels in the area including large chain hotels such as Holiday Inn, Super 8, and La Quinta. Larry will stay at the La Quinta.
Meal are not included in the price of this trip.
Please note: This trip is not eligible for the GINTC membership discount.