Join us for a FREE screening of Deep in the Heart at the Moody Gardens IMAX theater, Saturday night. FeatherFest registration is not required to attend this movie screening, but you must click the link below to reserve your seat. 
Deep in the Heart is a visually stunning celebration of what makes Texas unique — its diverse landscapes and remarkable wildlife behavior that cannot be found anywhere else in the world. Told through the eyes of wildlife species ranging from the mysterious blind catfish to the elusive mountain lion, the story follows our ever-changing relationship with the natural world and showcases our ability to destroy, conserve, and recover wildlife and the habitat we mutually depend on. 
Narrated by Matthew McConaughey and featuring state-of-the-art cinematography, this family-friendly film journeys from the highest peaks in West Texas, through our aquifers, rivers, and bays, and deep into the Gulf of Mexico. Deep in the Heart aims to conserve our remaining wild places, to show the connectivity of water and wildlife, and to recognize Texas' conservation importance on a continental scale. 
The IMAX theater is located in the Visitor Center building between the Rainforest Pyramid and Palm Beach. Once inside the Visitor Center, the theater is located just right of the main Garden Lobby. Click here for a map to Moody Gardens.
*FeatherFest registration is not required to attend this movie screening, but you must click the link above to reserve your seat. Space is limited.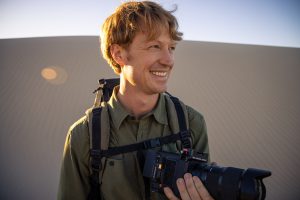 Ben Masters is a filmmaker and writer specializing in wildlife and adventure stories. He is most known for directing the feature length-documentary The River and The Wall (SXSW 2019 Award Winner) and for producing Unbranded (Mountainfilm 2015 Audience Award Winner). Masters studied wildlife biology at Texas A&M University and founded Fin and Fur Films in 2015. He is the author of two books published by Texas A&M University Press and has written for National Geographic and Western Horseman. A proud Texan, Masters loves riding a good horse through new country, filming wildlife stories that haven't been documented before, and using movies to help conserve wildlife and wild places.